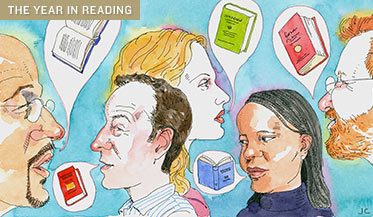 December 08, 2008
The Year in Reading: A Conversation (Part Three)
BROOKE ALLEN, MICHAEL ANDERSON, DANIEL MENAKER, JAMES PARKER, KATHERINE A. POWERS, and TESS TAYLOR
This is Part Three of our three-part Year in Reading conversation. Click here for
Part One
and here for
Part Two
.
November 12
What books published in the past year have you read that you've found yourself urging on others? What's prompted you to go and seek out more on a given subject, or more from a particular writer?
--The Editors
Brooke Allen
The one I've most urged on others (excluding all the lefty political tomes I recommend) is Tony Horwitz's
A Journey Long and Strange
. Informative
and
funny. In fact I plan to buy several copies to give as Christmas presents.
Michael Anderson
Easy: Pat Barker's
Life Class
. Since her magnificent
Regeneration
trilogy (books, which were a godsend when I was at
The New York Times Book Review
and besieged by requests: the response to
Regeneration
always was, "There are two more novels? Great!"), Barker has been a fascinating author to observe, in her steadily deepening formal development and thematic preoccupations.
Life Class
is the second time since
Regeneration
that she has returned to World War I, and once again her descriptions of wartime conditions and their effects on participants is astonishing in its freshness and immediacy. In the context of her career, the novel is interesting because it failed in its stated theme, the opposition of art and life; the theme is exhausted to begin with, and Barker's bias - that art is secondary to momentous events and overwhelms them - is obviously false (if demonstration is needed, by the novel the reader is holding), and because barker is not at all measured: her heart is with the participants of life, and she skimps of the artistic exemplars. The book is a fascinating example of how a work of art may fail in its stated objective yet provide manifold pleasures, proving, yet again, Conrad's dictum that in art, there are triumphs other than victory.
November 13
Brooke Allen
I totally agree with Michael. Barker is a close-to-perfect writer.
Daniel Menaker
The book I've urged on others -- or at least yammered about the most--over the past two years is Nassim Nicholas Taleb's
The Black Swan
. (Full disclosure: I helped to acquire this book for Random House when I was there.) Taleb's writing is idiosyncratic, antic, sometimes close to cryptic, but the fundamental ideas he sets down about our minds' tendency to narrativize the past in questionable or at least arbitrary ways in order to make questionable and often inaccurate predictions about the future -- may actually changed the way one looks at the world. Some years back, Malcolm Gladwell picked out Taleb--who calls himself, wonderfully, a "probablist"--for special attention in a New Yorker piece, and his first book,
Fooled by Randomness
, seems to me to have set the stage for such other popularizers of the nature of human fallibility as Chip and Dan Heath (
Made to Stick
), Dan Ariely (
Predictably Irrational
), Chris Anderson (
The Long Tail
), and Leonard Mlodinow (
The Drunkard's Walk
).
Briefly, a Black Swan is an event that is such an "outlier" that it knocks predictions into a severely cocked hat. 9/11 -- a perfect example. Taleb wrote a persuasive piece about the basic futility of the 9/11 Commission's retroactively narrative task for the Op-Ed Page of the
Times
. On the personal level, a sudden and serious medical diagnosis is a Black Swan. He shows that an apparently-out-of-nowhere bestseller is also a prime example of Black Swan-dom, and that generally happenstance governs our lives far more tyrannically than our brains, which evolved as prediction machines for a far simpler world than the one we live in, are inclined to acknowledge. His prescription -- stoicism -- is something that I think most wise and experienced people end up living by anyway, but
The Black Swan
undergirds that attitude in a convincing and almost comforting way.
Katherine A. Powers
I really liked Horwitz's
A Journey Long and Strange
-- as much as I read. I never got to finish it because I wasn't writing about it anywhere and time ran out. I'm always drawn to debunking books especially if they are written with good-humored relish and that brings me to Hugh Trevor-Roper's posthumously published
The Invention of Scotland: Myth and History
which would have been the best non-fiction work I read this year if it hadn't been for
The Secret Life of Words
. One of Trevor-Roper's particular interests was fabulists and forgers -- making his validation of the fake Hitler Diaries, for which he is now best known, especially amusing, though perhaps not to him. The Invention of Scotland shows the various ways in which, especially from the 18th century on, Highland traditions were reinvented or simply cooked up, often by Englishmen, to serve a range of nationalistic, cultural, and commercial purposes. Here is where you will learn (if you do not already known it) that the kilt and the tartan were nineteenth-century English inventions. Trevor-Roper was an elegant, tart, very witty writer made for this subject. I have prevailed on a number of people to get this book and have heard nothing but praise for it and of the wicked delight it has brought.
A couple of other books published this year which I liked because of the frauds and fanatics at their centers are:
Pope Brock's
Charlatan: America's Most Dangerous Huckster, the Man Who Pursued Him, and the Age of Flim Flam
. Ranging chiefly from the 1920s to 1930s, the book covers the doings of a certain "Dr." John Brinkley, a very successful (commercially speaking) practitioner in the virility racket who branched out into commercial radio -- which he essentially founded--selling quack remedies for every sort of ill. Out of all this came the spread of Country music and hot-gospel radio preaching. The book is entertaining, though also a depressing reminder of how wide and influential is the streak of charlatanism in our history.
The other is Jane Fletcher Geniesse's
American Priestess: The Extraordinary Story of Anna Spafford and the American Colony in Jerusalem
. This is a many-layered, many-chambered account of a cult who moved from Chicago to Jerusalem in 1881 to promote necessary preconditions for the end of the world. They ended up founding the American Colony Hotel and playing important roles in affairs in the region for decades afterwards. That summary doesn't capture how enthralling this book is, but there time is again--running out.
The funniest book I read this year is the snug little volume from Everyman's Library of
Flann O'Brien's five novels
. I've read them all God knows how many times before, but I read them again. They still made me laugh (and start phoning people to read bits). They continue to strike me with wonder at this great writer's ingenuity and his exhilarating use of language.
I have a half dozen other books I want to peddle, but have to get on with it.
November 14
Katherine A. Powers
Here are a few more books I read with great pleasure this year described, I hope, without the usual typos, misspellings, and lacunae. I must SAY it is hard for me, so set in my ways, to describe books I have reviewed already using different words -- so no
wonder
they -- words -- go missing.
I was impressed by how really good Josh Ozersky's
The Hamburger: A History
was--when books of this sort are so often wearisome potted histories. Instead, it is the wonderfully pithy story of America's emblematic meal, describing several revolutions in business practice and the burger's destiny as it was tied to its essential, controlling bun, and thus to the growth of the highway system and the country's automotive lifestyle. Ozersky also shows the hamburger's triumph being linked to the machinations of the beef lobby, to changes in domestic arrangements, and to the Cold War. The hamburger was as Ozersky writes with characteristic brio, "a nonpareil icon of easy abundance, and a loaded one at that when pointed at the lands behind the Iron Curtain, where people (it was imagined) had to survive on gray porridge and they could shoot you for laughing in bed."
This year I came across a new (to me) detective series with tremendous historical appeal. Written by Andrew Martin, it is set in the early twentieth century on the Lancashire and Yorkshire Railway and stars Jim Springer, a railway man. So far, three installments have appeared in this country:
The Necropolis Railway
,
The Blackpool Highflyer
, and, this year,
The Lost Luggage Porter
. They are steeped in railway lore and have sort of a sepia melancholy about them, though they are also very funny at times. There is something a little odd and off-kilter about them that reflects Jim Springer's plight in the world. He is a man of reason and exact calibration, while all around him is chaos and sometimes inexplicably dead bodies.
Every year I do a baseball-book roundup and this year's winner for best according to me was Peter Morris's
But Didn't We Have Fun? An Informal History of Baseball's Pioneer Era, 1843-1870
. I would buy (if it actually came to that) any book by Morris on baseball though for some reason they tend not to make it into paperback editions. His
Level Playing Fields: How the Groundskeeping Murphy Brothers Shaped Baseball
of last year was a masterpiece of business, sports and cultural history. This year, I also liked Daniel Levitt's
Ed Barrow: The Bulldog Who Built the Yankees' First Dynasty
, another great sports/business history, and one which revisits the infamous sale of Babe Ruth to New York showing it to be an even darker and dirtier deed than is commonly supposed -- well, here in Boston.
Michael Anderson
I would second Katherine's enthusiasm of the baseball books. Interesting that serious baseball histories tend to be (with remarkably few exceptions) very well written and interesting books.
Daniel Menaker
And there are (at least) two compelling baseball novels lurking historically in the shelves of our culture--Mark Harris's
Bang the Drum Slowly
and Malamud's
The Natural
. I don't know of baseball fiction more recent than that, but surely I'm forgetting something or am just downright ignorant of it. Has anyone read Bill James? I haven't, but I understand that his statistical methods of analyzing baseball, aggregated into his books, have spilled over into politics, in Nate Silver's 538.com site.
Getting back to funny stuff (and this year), Carl Hiaasen's
The Downhill Lie
made me laugh, even though, I wouldn't touch golf with a 5-iron, as did Gene Stone's
The Bush 12-Step Recovery Program
-- Stone is the same guy who wrote the bestselling
Bush Survival Bible
. These are lite and topical and no doubt evanescent entertainments, but they are entertainments. And then there's
Submarine
, a wonderful, cringily funny and under-recognized British first novel by Joe Dunthorne, about a kid who thinks his parents are going to get a divorce and tries to intercede.
Tess Taylor
As long as we're talking about baseball I should put in a plug for Gail Mazur's baseball poems. They are often about the Red Sox, and therefore quite rueful.
Marianne Moore also has quite a nice baseball poem, with a lovely description of the seams spinning in midair.
But as for this particular year, and it's "nowness" I keep feeling that I have spoken. Though I am looking forward to reading what will be a big book to me -- the collected correspondence between Elizabeth Bishop and Robert Lowell. And I admit, I wish I had read Bolaño, too. Everyone keeps talking about him at parties.
Did anyone other than me read Sarah Shun-Lien Bynum's funny and heartbreaking
Ms. Hempel Chronicles
, about being a frowsy seventh-grade teacher at an upscale urban private school? It's a very sweet meditation about how teachers are growing up, too. For all the awkwardness of her eighth graders, Ms. Hempel, and not the students is the one coming of age. I just sent it to my sister who is a semi-beleaguered high school teacher, but it's frequently hilarious and quite easy to relate to. However, I sadly report that it has very little to do with baseball.
Michael Anderson
Sorry, Dan, but the only baseball fiction worth reading was written by Ring Lardner.
Katherine A. Powers
Hey! I was going to say that tomorrow.
November 15
Katherine A. Powers
I haven't read Gail Mazur's baseball poems, but will look into it sometime. I know Marianne Moore's poem, "Baseball and Writing" which is pretty funny, though not the one you, Tess, are talking about. I can't think of any baseball fiction outside Lardner's that isn't weighed down and sogged up by metaphor and manly sentimentality. Exhibit A is W. P. Kinsella's
Shoeless Joe
, upon which the execrable film
Field of Dreams
was based.
As for Bill James, he is far better than his disciples as far as readability is concerned. He admitted at one point that he had unloosed a monster (not his words) with his
Baseball Abstract
and so gave it up. Every year I get a couple of baseball books by madmen who believe that, through statistical analysis and revolutionary formulas, they have penetrated the mystery of contingency. These books are...tough going. Bill James's best book, and an excellent one, is his history of the Hall of Fame, published as
The Politics of Glory: How Baseball's Hall of Fame Really Works
and now called
Whatever Happened to the Hall of Fame?
I love the idea I have seen floating around that our not-soon-enough-not-to-be-ex-president, G. W. Bush, would make an ideal commissioner of baseball. Indeed he would: His track record as part owner of the Texas Rangers speaks for him, as does his subsequent performance: Here, in one man, is all that is wretched about the game now, especially the casting of the blind eye and the transfer of public money into private pockets.
Michael Anderson
The power of Lardner's baseball fiction comes not only from his familiarity, from years as a reporter, but his refusal to sentimentalize the subject. Most writers convert baseball players into demi-gods; Lardner reversed the process, and by demythologizing demigods illuminated human beings. Malamud stands as one of the great American writers of the last century, but
The Natural
is precisely the sort of pseudo-allegory Lardner demolished.
Bang the Drum Slowly
, like all of Harris's baseball fiction, is sentimental slop -- the sort of musings by a man who long ago didn't make his Little league team.
Daniel Menaker
Had he not made that team recently, it would have been even worse.
Let us venture one last query: is there a volume that passed through book-world consciousness in the past year that you regret not having read in its first flush of fame? Conversely, are there any you found yourself avoiding at all costs?
--The Editors
Tess Taylor
Well, again, a not quite on the nose answer to that question-- of course there are big books -- it books of any season. I'm thinking how Edwidge Danticat and Claire Messud and Junot Diaz were everywhere last year; right now, as many of us are feeling, it's Roberto Bolaño, and of course a couple of years ago it was all the Jonathans. The buzz builds and certain books or authors become wunderkind. I confess to being terribly unfashionable. I feel that I am always
not
reading those books at the moment they come out. So I am generally embarrassed at parties where people are talking about them. I am usually reading about frowsty middle school teachers or an essay by Orwell I am planning to teach, or John Donne or wandering around reading Charlie Simic's much smaller new book of essays. I have nothing against it books -- all of the books I mentioned are books I would turn and return to. And of course as readers we want to be entertained, and to read things of the moment that speak to our current condition and confusions and hybridities.
But at the end of the day, I find in my own surely plodding way that the getting near the big it book of the year very rarely has very much to do with being a reader and sinking down into that personal pleasure of being swept away by something. I can't put my finger on why, because it's not a moral thing, and actually I love launch parties and free drinks and chatter as much as the next person. And I confess to wanting to have read the Bolano for this season's bon mot. But the real readerly me actually often finds it hard actually to focus on being with a book at the moment that it is the "it" book -- I feel it get blurry and laden with it's publicity and everyone is reading it anyway, so it's not really mine. Perhaps I am the kind of reader who craves a sort of dreamy solitude? Does anyone else have this experience? Is this a guilty confession of a book reviewer?
I can be dazzled, of course. I'm only now getting to Brenda Shaughnessey's
Human Dark with Sugar
, which I am looking forward to loving on my own time. And I think that ultimately, I like the feeling of loving "on my own time," somewhat apart from the IT books, despite well-written press releases and excellent launch parties. (Again, to reiterate, I like book
parties
.) But for me, this is a separate pleasure from the one of reading: the most pleasurable reading experiences reflect the fact that good books make and take their own time.
Motherless Brooklyn
will be fresh again this year and in five years and ten and so on.
So, again I mutiny by stressing the quiet pleasures: I loved Kathleen Jamie -- a Scottish poet who came out with some marvelous essays on nature and non-nature from Graywolf and Yousef Komunyakaa's
Warhorses
-- which is a meditation on the crafts and crimes of war across time and space. Even as I weigh in on a panel about the best books of 2008 or 2009 or 2010, I keep in mind that good reading is a durable pleasure.
November 16
Katherine A. Powers
I must say I envy Tess all those book parties. We don't have many here, at least not with booze and all -- Boston not being what you might call a toddlin' town.
It shouldn't really matter when you read a book, I suppose, except it does when you're in this racket. I was very happy that I read John le Carré's truly excellent
A Most Wanted Man
when it was in its first flush so I could contradict the many people I ran into who said that le Carré had lost his touch, an opinion, it invariably turned out, based on not having actually read the novel itself.
There are a number of books I wish I had had the time to read this year, but I can think of two in particular:
Amitav Ghosh's
Sea of Poppies
: I liked the couple of novels I've read by Ghosh and this one sounds as if it has key ingredients for my cup of tea -- nautical, 19th-century India, lots of material detail, and curious lingo. And it is also the first volume of a trilogy which means I am going to be
behind
when the next volume appears.
Barton Gellman's
Angler: The Cheney Vice Presidency
: Every review I've read makes me long to read it, not the least of them being
Tom Carson's in the B&N Review
in which he observes, "Once W. retires to Crawford, Angler could turn out to be he most fascinating
Please sign in to add a comment on this article.
Books, CDs, DVDs to know about now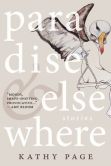 Paradise and Elsewhere
Canadian short story marvel Kathy Page emerges as the Alice Munro of the supernatural from these heartfelt tales of shapeshifting swimmers, mild-mannered cannibals, and personality-shifting viruses transmitted through kisses.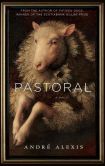 Pastoral
When a persuasive pastor arrives in a sleepy farm town, his sage influence has otherworldly results (talking sheep, a mayor who walks on water). But can he pull off the miracle of finding kindly local Liz Denny the love of her life? Small wonder looms large in this charmer from Andre Alexis.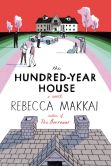 The Hundred-Year House
When a poetry scholar goes digging through the decrepit estate of his wife's family to uncover a bygone arts colony's strange mysteries, he awakens a tenacious monster: his mother-in-law. A wickedly funny take on aging aristocracies from author Rebecca Makkai (The Borrower).