December 31, 2009
Doyle & Houdini: Spirits & Skeptics
Doyle & Houdini |
Spirits & Skeptics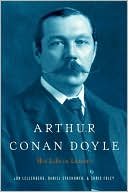 And so ends 2009, the 150th anniversary of the birth of Sir Arthur Conan Doyle. His great character, Sherlock Holmes, is literature's arch-rationalist. And yet at the height of his powers, Doyle championed the cause of revelation, not reason, defending Spiritualist mediums and championing their followers' beliefs. In the 1920s he ran afoul of magician (and debunker of psychics) Harry Houdini; at the end of the last decade of the 21st century, their struggle of faith and skepticism seems as relevant as it was in their own time.
About the Contributors
Joe Alterio
, an illustrator and artist based in New York, creates images, comics, and cartoons for commercial clients, and speaks about digital media and storytelling at venues such as the San Diego Comic Con, Seoul International Cartoon and Animation Festival, and at the upcoming SXSW 2010. See his work at
joealterio.com
.
Matthew Battles
is a frequent contributor to the Barnes and Noble Review and cofounder of the arts-and-culture blog
Hilobrow.com
; on Twitter, he's @MatthewBattles.
Please sign in to add a comment on this article.